Visage Technologies at NordiCHI!
Nov 3, 2016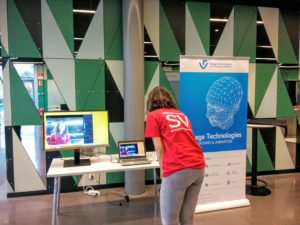 Visage Technologies team was proud to participate at NordiCHI, a biennial conference functioning as the main Nordic forum for Human-Computer Interaction (HCI) research. NordiCHI is a place where academic and industrial researchers, designers, educators, programmers and others can meet, exchange ideas, and see novelties in HCI, while addressing the design and use of interactive technology.
Participants have tried out our showcase demo manifesting our face tracking and analysis (age, gender, emotion estimation), try it out as well!