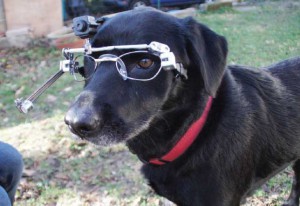 Researchers from the University of Helsinki investigated the similarities and differences in people and dog gazing in interaction. There were various independent studies focusing on canine gazing, but this is the first study that did the comparisons under very similar condition, focusing on dogs' visual attention in social scenes. The researchers tracked and recorded the eye gaze of dogs while they were watching images containing two humans or dogs, either interacting socially or facing away. This gazing behavior was compared with the equivalent data measured from humans, and the result was that the dogs' gazing behavior was similar to humans, since both species gazed longer at the actors in social interactions than in non-social photographs.

The additional measures included comparing the gazing behaviour of two different human and canine populations, differing in their social experiences, such as family and kennel dogs, and canine experts and canine laymen. The result was that humans gazed longer at the actors in canine rather than in human social interaction photographs. On the other hand, one other interesting result was that dogs gazed longer at the actors in human rather than in canine social interaction images. Both species also made more saccades (quick, simultaneous movements of both eyes between two phases of fixation in the same direction) between the actors in images with the different species, which could indicate that processing social interaction of a different species (so-called non-conspecifics) may be more demanding.
A recent studies with naturalistic social interaction images has shown that monkeys and humans share a similar social attention strategy when processing social scenes, and this social attention seems to be modulated by experience, and that previous social experience has impact on dog gazing (cf. Somppi et al.). However, canine experts and non-experts viewed the images very similarly, but kennel dogs viewed images less than family ones, but insignificantly, since otherwise their gazing behavior did not differ much. This points to the fact that the basic processing of various social stimuli still remains similar, no matter what the previous social experience is.
The participants were 46 dogs (38 family dogs, 8 kennel dogs cared for by researchers from the University of Helsinki) and 26 humans (13 canine experts and 13 non-experts), and the human data was a reanalysed subsample from a previous study with different goals. The measurements were made using an infrared-based contact-free eye-tracker with a sampling rate of 250 Hz, based on a corneal reflection, which was integrated into an LCD monitor, placed at about half a meter distance from the dogs' eyes, depending on the size of the dog. The eye tracker was recalibrated for each dog's eyes, and to get an optimal calibrations 1-27 repeats were required for each dog. The head position, illumination and the position of the eye tracker was kept the same during the calibration and the sessions themselves. Human measurements were recorded with a long-range eye-tracking system with a sampling rate of 60 Hz, based on video-oculography and dark pupil-corneal reflection, and the stimuli were viewed at a distance od 34 cm.
Successful eye-gaze recordings were obtained from 32 family dogs and 8 kennel dogs, and in humans on average 58 images per human were analyzed. Stimuli were divided into two areas of interest: first, the image area comprising the whole image, but not the grey background; second, the object area in other than pixel images, comprising the heads and bodies of the two dogs/humans from the photographs. The total gaze time was calculated for the image areas and relative gaze time, along with the number of saccades between the two objects in the image. The statistical analyses were conducted using SPSS statistics 22.0, and the total gaze times of dogs were compared with repeated-measures analysis of variance (ANOVA) with a between-subjects factor group (family dog, kennel dog), and within-subjects factor category (human_toward, human_away, dog_toward, dog_away, pixel). Additionally, the total gaze times of family and kennel dogs for pixel images were compared using ANOVA with a between-subjects factor group (family, kennel), and within-subjects factor behavior (toward, away). The mentioned between-subjects factor group and the within-subjects factor category were also inspected using ANOVA focused on the number of saccades.
The results have demonstrated that dogs gazed longer at the object area in human than dog social interaction images. On the other hand, humans gazed longer at the object area in dog than human social interaction images. In addition, dogs made more saccades between objects in human social interaction in comparison to human non-social images, and that suggests that human interaction images required closer scanning of body postures than non-social images. Both species gazed longer at objects in images containing beings from a different species, and made more transitions between objects in these non-conspecific images. This could be a potential for further research, since it indicates the possibility that processing social interaction of non-conspecifics may be more demanding. Also, dogs' interest towards human social images might also reflect their skills in comprehending human communicative cues.
_______________
References: