Computer vision is increasingly being used to make our lives easier, safer and better. However, developing a computer-vision-based solution from scratch requires a lot of time and effort.
To improve and reduce time to market, clients across various industries rely on our team. Backed by two decades of experience, we provide custom computer vision software development services around face tracking and analysis, translating clients' vision into top-notch solutions.
Work with a proven team
Cutting edge, lightweight algorithms make our technology the key component for any vision-based application – from simple face AR apps and virtual try-ons to complex systems for driver monitoring, biometrics, market research, and more.
Comprehensive documentation and samples make the integration of visage|SDK easier. However, you can also rely on our team at any step of your project.
We can help you design your research, advise your team, develop new features, or build an advanced solution from scratch. Our expertise covers research and development of new features and custom products based on our face tracking, analysis and recognition technology.
So, what exactly does our team bring to the table?
EXPERIENCE: Improve time to market
Computer vision software development can get costly and time-consuming, especially for developers with no prior experience in the field. With dozens of custom development projects and years of developing proprietary technology under our belt, we can bring your project to life in less time and costs.
FLEXIBILITY: Get a turn-key solution tailored to your needs
Our technology has already been used for driver monitoring, virtual try-ons, face AR, gaming, marketing… but that's just scratching the surface. We can customize visage|SDK for your specific use case and build an end-to-end solution that meets your every need.
TRANSPARENCY: Stay involved at all times
As long as we're working on your project, you feel like a part of our team. We make sure the communication is always open and transparent. This way, you're fully involved in every stage of the project as we work towards building the perfect solution for you.
When should you consider custom development?
Although you can integrate visage|SDK yourself, custom development may be a better option in some cases:
Your employees lack the time or the qualifications
If your employees don't have enough time or knowledge to carry out the necessary research and development, the project can easily take a wrong turn. With us, you get immediate access to some of the best and brightest minds in the field.
You need a custom solution
Our technology has successfully powered hundreds of solutions – from simple apps to complex systems. We can easily adapt it to your specific use case or deliver a fully customized, turn-key solution. We draw inspiration from extensive first-hand experience on various custom development projects and everyday research carried out by our R&D experts.
You want to minimize time and costs
Training employees, learning from trial and error, gathering datasets… Customization can get costly, especially with complex technologies such as computer vision. Our experienced engineers can get you to a quality product in significantly less time and costs.
Besides development, we also provide custom consultations. We help you lay the groundwork for a successful project, with a focus on value, time, and cost benefits. This includes examining the project's feasibility, investigating the latest trends, selecting the optimal technologies, and, finally, planning the best way to bring your idea to life.
You get an objective perspective based on what we've seen work (or not) before. This includes bringing up not only new ideas but also the potential challenges you might not have seen coming. The result is a detailed project proposal, which you can either use by yourself or let our team develop the final product for you.
Our custom development process
Our custom development process has always been client-focused. From the moment you reach out to us to the final product delivery, we remain fully committed to building the perfect solution for you.
There are several steps of a custom development process:


1) Gathering requirements
The first step of each custom development project is to learn as much as possible about your specific requirements. We want to know what your business needs are, what problems you are trying to solve, how you hope to achieve that, and more. Together, we discuss potential solutions and, if needed, go through similar projects we've already completed.
2) Project proposal
Once we pinpoint what you need, we start planning the project. We create a project proposal that outlines the best ways to meet your objectives and relevant time frames for the project. If needed, we can also develop a proof-of-concept prototype to verify specific concepts and ideas.
3) Development
Once you've accepted the project proposal, we can start working on the project. The project leader keeps you updated on the progress. Usually, we hold regular meetings to make sure you're always up to date and that everything is going as planned.
4) Testing and review
Once developed, the product is thoroughly tested to make sure it meets all of the requirements. This step also includes client review, whose feedback helps us move on to the next step or, in some cases, identify further improvements.
5) Delivery
Once the product meets all of the requirements, it's time for the best part – the delivery. You get to enjoy your custom solution and start preparing its launch.
Computer vision software development since 2002
Visage Technologies has been at the forefront of face-related computer vision technology since 2002. With hundreds of happy clients worldwide, amazing partners, and a constantly growing team, we keep pushing the limits of what computer vision can do.
Our hard work is reflected in our fully organic revenue growth. We've been listed among the fastest-growing companies for 4 consecutive years. This achievement is the result of thousands of hours invested in research, development, and education – all in an effort to keep our technology at the world's very top. We are eager to keep exceeding the expectations of our clients and partners with every new project we take on.
Our recent custom development projects include developing a virtual hair color try-on, creating a virtual assistant that measures BMI, developing software for in-cabin sensing, and more.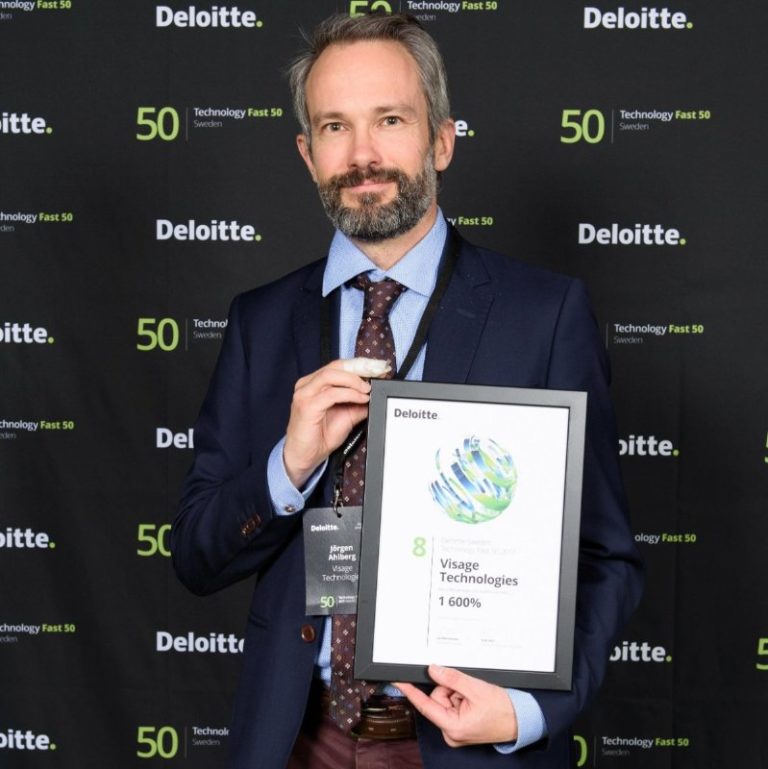 Tell us about your project
If you need a custom solution powered by computer vision, you can rely on us. Our expertise and commitment have already been recognized by clients such as Scania, BMW, Canon, Philips, and many others. We would love to help turn your vision into another success story, too.
Get in touch to find out how we can help or explore our technology with a free evaluation license.
Get your custom solution
With 20+ years of experience in computer vision, our team can easily bring your idea to life. Get in touch and tell us about it.