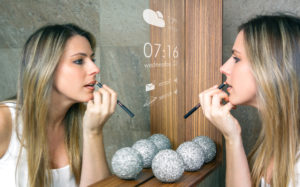 The global smart mirror market was valued at $1,750.0 million in 2017, while Europe was the highest contributor to the global market the same year. The smart mirror market is projected to reach $4,118.7 million by 2025, registering a CAGR of 11.5% from 2018 to 2025.
What IS a smart mirror?
A smart mirror is a two-way mirror with cameras, electronic displays and different sensors behind the glass. Most smart mirrors on the market today act as an extension of a smartphone, allowing users to browse social media feeds and view information such as the weather, the news or a daily calendar. In essence, it is a smart mirror is an advanced mirror equipped with state-of-the-art technologies combined to bring the user the that future feel. The mirrors are used in various industries such as retail, fashion, cosmetics, healthcare, automotive and others. Their functions highly differ based on their usage type, end user profile and location. Smart mirrors can in all shapes and sizes, with multiple added functionalities, like lightning, weather forecast, health reports, virtual makeup etc.
Who's using it?
Well, basically, everyone, or everyone will, in the future, if we are to trust the market predictions. It has many benefits, perfectly fits in with IoT trends, provides valuable data for its users, and most importantly, it makes your life easier. For instance, in the residential sector, it can be used for recognizing people, learning and catering to their daily habits and needs, making it an essential part of a SMART home.
In the automotive sector, smart mirrors are used as side view and rear view mirrors for enhanced safety purposes and driving aid. In the retail industry, smart mirrors are used to help prospecting customer choose outfits without hassle, with virtual try-on solutions. Smart mirror devices can be powered by different solutions, examples are virtual glasses or jewelry try ons. Another example is skin analysis solutions that can track and diagnose different skin conditions via camera, recommend appropriate products and enable you to share product reviews with your friends.
Smart mirrors in the headlines
This year, on January 2, Amazon was granted a patent for a smart mirror that will enable buyers to try on clothes in the comfort of their home and then order online. Multiple retail chains and solution providers are testing different ways to engage their customers by providing more enjoyable and seamless shopping experience in the digital age. Users are encouraged to share images with their friends via social media, receive feedback on their outfits, applied makeup or accessories and ultimately complete the purchase without diving in the cramped changing rooms or using makeup testers. Many cosmetics retailers are cutting back on product costs by using virtual makeup display stands and smart mirrors so users can try a variety of products without using testers.