A chance to virtual try on products has become a must-have for brands in the cosmetics, eyewear, and lifestyle industries. In just a few clicks, customers can check out how the chosen product suits them.
The benefits of a virtual jewelry try-on
For customers, a virtual try-on is a great way to easily find the product that suits them best. Consequently, they are more likely to be satisfied with their purchase and remain loyal to their brand.
For brands, it's a chance to increase their reach and sales – especially online. They can add a virtual try-on to their website, allowing users to try on products as they browse through the page. They can also build a mobile application with loyalty programs, social sharing options, shopping lists and more. Finally, the technology can help grow sales in physical stores, too, using smart mirrors or tablets.
Create your jewelry try-on
You can create your virtual jewelry try on with visage|SDK or let our team develop a turnkey solution for you.
Let customers try out your products using only their phone or computer, or introduce smart mirrors into your stores. Since visage|SDK is extremely lightweight, it can run smoothly on any device. Quality face tracking allows them to get the realistic picture in real-time, even if they move their head around. Users can switch between different products in real time, which makes it easier for them to find their favorites.
Besides being a useful tool on your customers' shopping adventure, a virtual jewelry try-on can be a valuable source of information for you, too. For example, you can introduce analytics and monitor the latest trends and preferences among your customers.
Let users try on earrings via an online application, your in-store tablet or a smart mirror. They can easily see how each model fits them and buy their favorites. This helps turn window shoppers into buyers, especially online.
Ear piercings have been a classic form of body art in many parts of the world. Today, the choice of piercing types and jewelry has never been bigger. A virtual piercing try-on helps your customers visualize how the desired piercing would look on them. This helps them choose the best option for themselves and become a happy customer.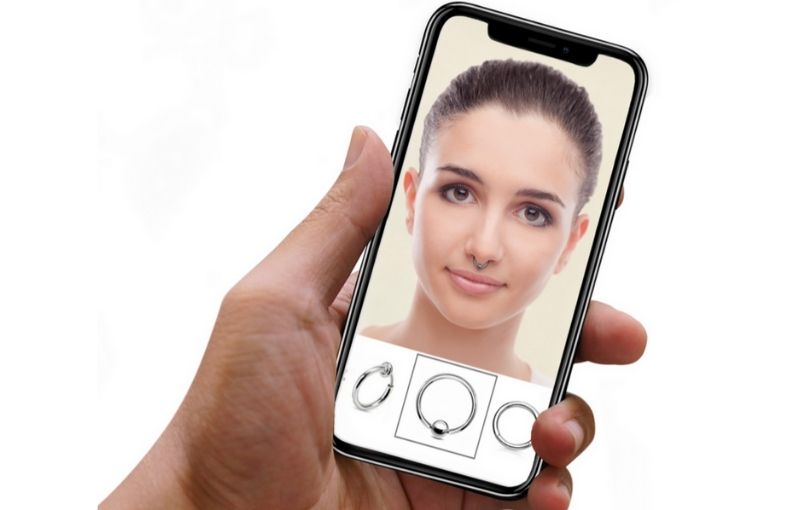 Start your free trial
Ready to explore visage|SDK? Get in touch and activate your free trial.