When it comes to buying makeup, one thing will never change – people will always prefer to try it on first. Our virtual makeup SDK was designed to help create a holistic makeup experience on all channels, especially digital. With a single integration, brands can build a custom virtual makeup try-on that can significantly improve customer experience and increase sales.
Why do you need a virtual makeup try-on?
A virtual makeup try-on is an application that allows customers to try on makeup in augmented reality using a simple web or mobile camera.
For brands, it's an efficient way to create an interactive, personalized makeup experience on all channels. Customers can quickly and easily try on a wide range of makeup products, both in-store or from the comfort of their home.
A virtual try-on can also help reduce the huge costs that often incur due to the return of goods, especially at a time of the global pandemic when customers are increasingly buying online and approaching every physical contact with caution.
You can also go one step further and build a valuable sales and analytics tool around the virtual try-on. You can offer product recommendations and gather actionable try-on statistics and insights they can then use to encourage (up)sales. For example, you can keep track of which products are selling the most and adjust the offering across different locations to meet the real needs of your customers.
For customers, having a chance to try on the products they are interested in improves the overall shopping experience and makes it more personal. It's a great way to discover new products, without the need to visit a physical store, communicate with salespeople, or feel pressure to decide on the spot.
Furthermore, customers are more likely to buy a product if they can see how it looks on them, especially when shopping online. This also increases the chance of them being happy with their purchase and buying from the same brand again.
How does makeup|SDK work?
makeup|SDK combines face tracking and 3D rendering to create a real-time virtual makeup experience. Using a simple API, you can easily integrate AR makeup features into your iOS, Android and HTML5 applications.
– Real-time face tracking for flawless UX
makeup|SDK is integrated with FaceTrack – extremely fast and precise face-tracking technology used by hundreds of clients worldwide. FaceTrack detects and tracks 99 facial points and returns a face mesh, ie. a 3D model of the person's face. The 3D face mesh is used to pinpoint the facial areas needed to properly display specific makeup products. For example, eyeshadow is applied to the eyelid area, blush is applied to cheekbones, etc.
Real-time tracking makes sure that the makeup always "fits" perfectly, even if the customer moves their head. This way, customers can see how a specific product suits them from different angles – almost like looking at the mirror. All they need to do is turn on their camera.
Furthermore, the tracker processes images from any standard web or mobile camera. Broad device reach and real-time processing help create truly intuitive virtual makeup try-on solutions that can provide the optimal experience with minimum user input.
– 3D rendering for optimal makeup representation
Besides being able to pinpoint exactly where to apply makeup, a realistic representation of makeup products plays an important role, too. After detecting important facial landmarks, makeup|SDK automatically applies virtual makeup by blending the colors using carefully designed semi-transparent masks and appropriate post-processing.
makeup|SDK supports a wide range of makeup features out-of-the-box: foundation, powder, concealer, blush, eyeshadow, eyeliner, mascara, eyebrow, lipstick, lip gloss, and lipliner. This means that each feature already has a predefined facial area – all you need to do is to choose its color (or more colors) and finish.
It's important to show the attributes that are important to customers as faithfully as possible. For example, red lipstick may sound pretty straightforward at first, but customers will immediately notice the difference between various shades of red, and a glossy or matte effect.
Feature's finish defines the texture and other special attributes of the makeup product. The finish can, for example, be glossy, matte, metallic, satin, etc., helping create a more realistic look.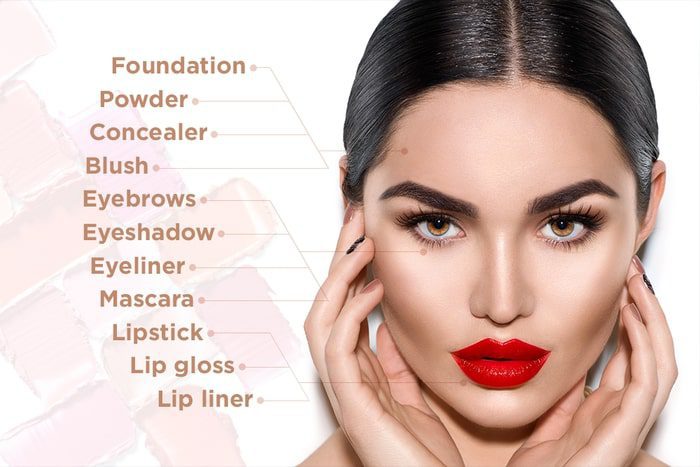 – Easy integration for a faster time-to-market
A growing number of makeup companies let their customers try on makeup on their website, while some opt for specialized mobile apps instead. Virtual try-on solutions are also increasingly used on tablets and smart mirrors in physical stores, which is a big advantage at a time of the pandemic, when the benefits of contactless testing and buying are obvious.
makeup|SDK lets you easily implement virtual makeup on the platform of your choice – iOS, Android and HTML5. Using a simple, yet powerful API, you can tailor the preferred virtual try-on experience in less time and effort. Using ready-made, well-documented functions, you can create virtual representations of a wide range of makeup products faster and smarter.
Finally, you can develop new functionalities or your own user interface over or around our visualization. For example, you can create entire makeup looks, develop analytics, connect your virtual makeup try-on with popular social media, and more.
makeup|SDK gives you complete flexibility when it comes to customization, allowing you to create your ideal virtual try-on solution.
Creating your virtual makeup try-on
Many cosmetics and beauty brands have used our technology since 2002. It has helped create realistic virtual try-ons, interactive marketing campaigns, entertaining face filters, and much more.
For example, Oriflame developed an award-winning virtual makeup app that lets users virtually apply their makeup products in real time and add their favorites to the shopping cart.
Our technology was also integrated into WOW HOW, a mobile application that teaches users how to apply makeup in an interactive way. Using WOW HOW, beauty enthusiasts can try out new makeup colors and techniques in the comfort of their home, at a pace that suits them best.
With makeup|SDK, creating a custom virtual makeup solution got much easier. Created in collaboration with global makeup companies, it has everything you need to build a virtual makeup solution that can be truly valuable to customers and profitable for your brand.
Our virtual makeup SDK helps you build a virtual makeup try-on solution that is:
Intuitive, allowing customers to easily try-on makeup products using nothing but a simple camera;
Easily accessible, letting your customers enjoy a personalized makeup experience on their favorite platform;
Realistic, presenting a wide range of makeup products in real time;
Customizable, showing off the true colors of your brand – from makeup features to UI.
makeup|SDK lets you build a custom makeup solution yourself. However, if you'd prefer a ready-made solution, you can rely on our experienced team for custom development. With more than a decade of first-hand experience in computer vision and machine learning projects, our team can easily bring your idea to life. We can help you design your solution, advise your team, develop new features, or build a custom solution from scratch.
Explore virtual makeup SDK for free
Virtual try-on technology has huge potential. It allows brands to personalize the user experience and better meet the expectations of their customers on their favorite platforms. By letting customers try on products from the comfort of their home, brands can grow their sales and significantly decrease their return rates.
Whether you're building a makeup app, upgrading an e-commerce website or powering a smart mirror, our makeup|SDK will help you create the optimal digital experience of your physical products.
Start your free trial
Explore makeup|SDK and its powerful product digitalization editor with your evaluation license.