Gone are the days when buying makeup involved guessing what a particular product would look like on your face. With the rise of virtual makeover technology, customers can now try on makeup virtually and make informed purchasing decisions.
But how exactly does this benefit your brand? How can these virtual makeovers help you sell real-world makeup?
Read on as we uncover all the details!
What is a virtual makeover?
A virtual makeover is a digital representation of makeup or beauty products that can be applied to a person's face using a live camera, a photo, or special AR mirrors. To put it more simply, it's an innovative tool that allows you to try on makeup virtually.
Virtual makeover software uses augmented reality (AR) technology to simulate the application of makeup products on your face. It detects your facial features and applies virtual makeup on specific parts of your face.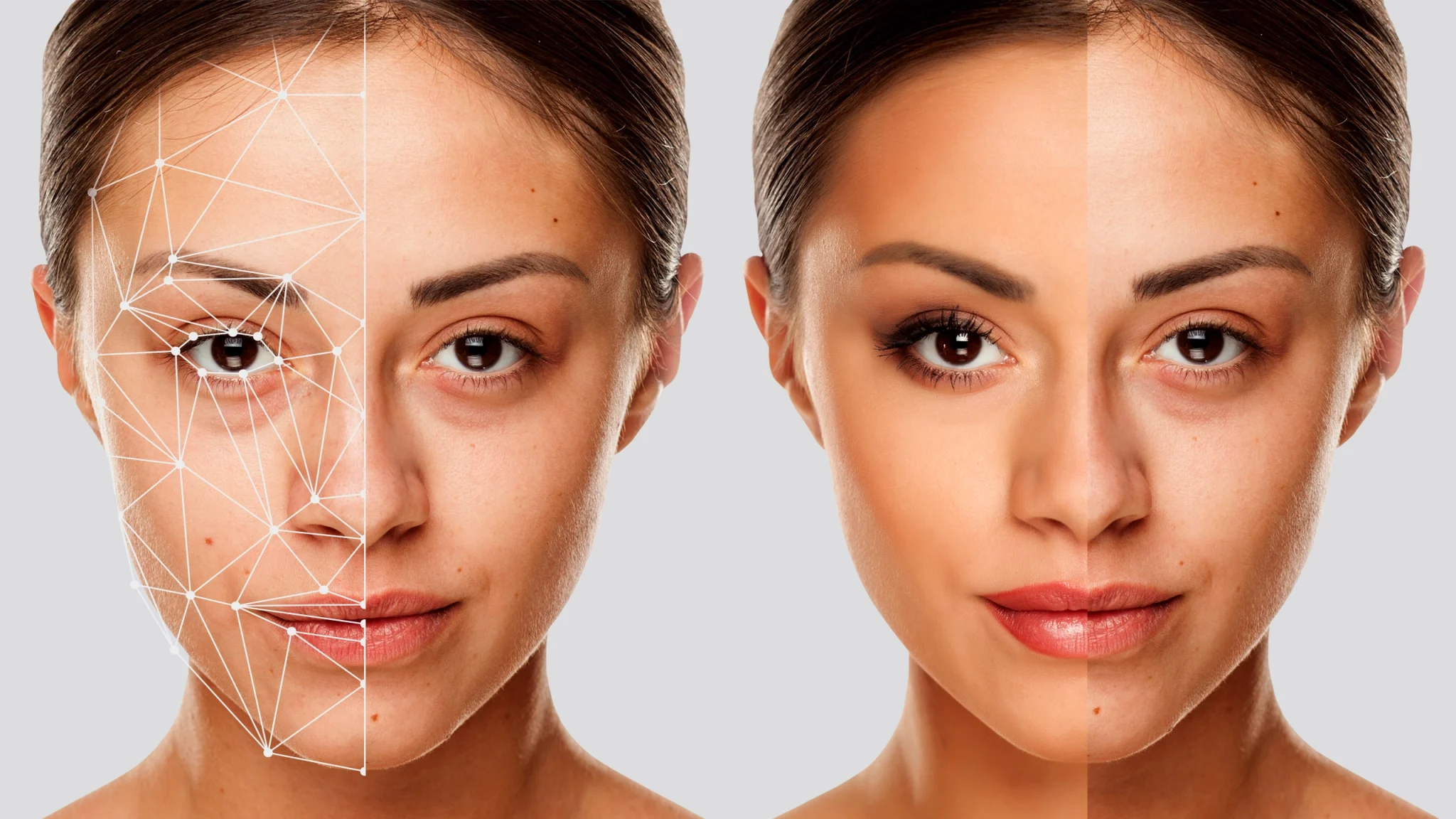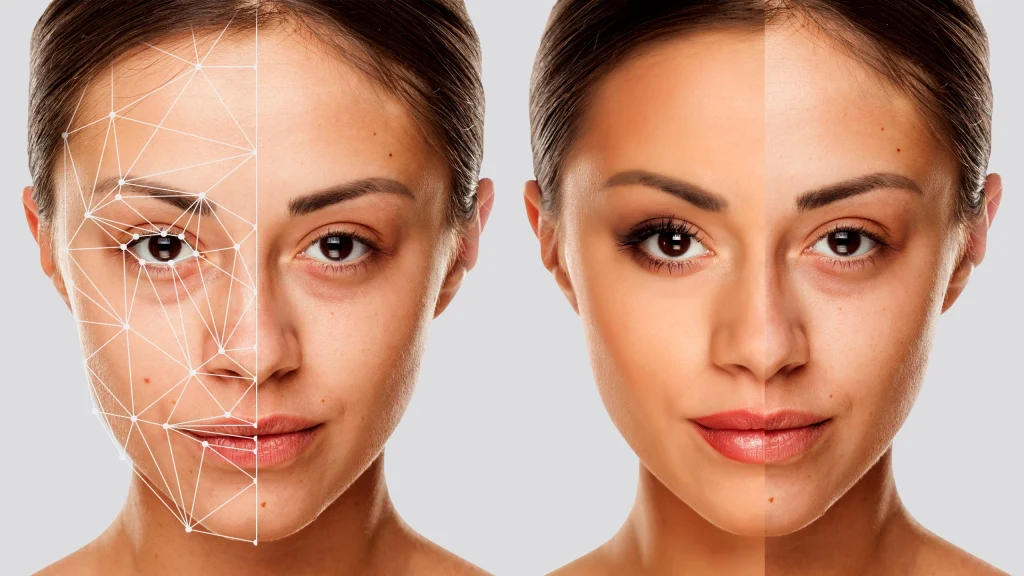 This cutting-edge virtual makeover technology usually employs face tracking technology to map the user's face and apply virtual makeup or other beauty products in real time.
Basically, it functions like a mirror. Users can choose from a wide range of makeup products, such as foundations, eyeshadows, mascaras, lipsticks, etc., as well as add a special finish, and adjust the color and intensity of the selected products to achieve the desired look.
➥ Virtual makeover in the service of your customers
When it comes to your customers, virtual makeovers are a very easy and useful tool to use. They can browse through ready-made virtual representations of your physical makeup products and, with just a few clicks, put the makeup on. And they can do this by using any standard camera accessed via mobile phone or computer.
Your customers can then see how different products look on their face, making the process of choosing the right makeup products much more intuitive and convenient. And with it, make that final purchase decision much easier.
➥ Virtual makeover in the service of your brand
If we look at it from your brand's perspective, virtual makeover technology is a game-changer as it can be transformed into a valuable sales and analytics tool. With Visage Technologies' makeup|SDK, for example, you can create a virtual makeup try-on that acts like a virtual mirror, showcasing products in an interactive and personalized way.
Whether it's through a makeup app, e-commerce website, or smart mirror in-store, a virtual makeup try-on provides your customers with the optimal digital experience of physical products. Customers can try out various products instantly, without the need for cleanup or interaction with shop assistants. Moreover, there will also be no need for testers, which means less plastic and a lower impact on the environment.
With virtual try-ons available on their phones, in stores, or on websites, therefore, your beauty brand has the opportunity to reach customers where they are and increase sales through a seamless and enjoyable customer experience.
Now, let's take a closer look at how you can boost those real-world makeup sales with the help of virtual makeovers.
Capitalize on virtual makeovers and grow your sales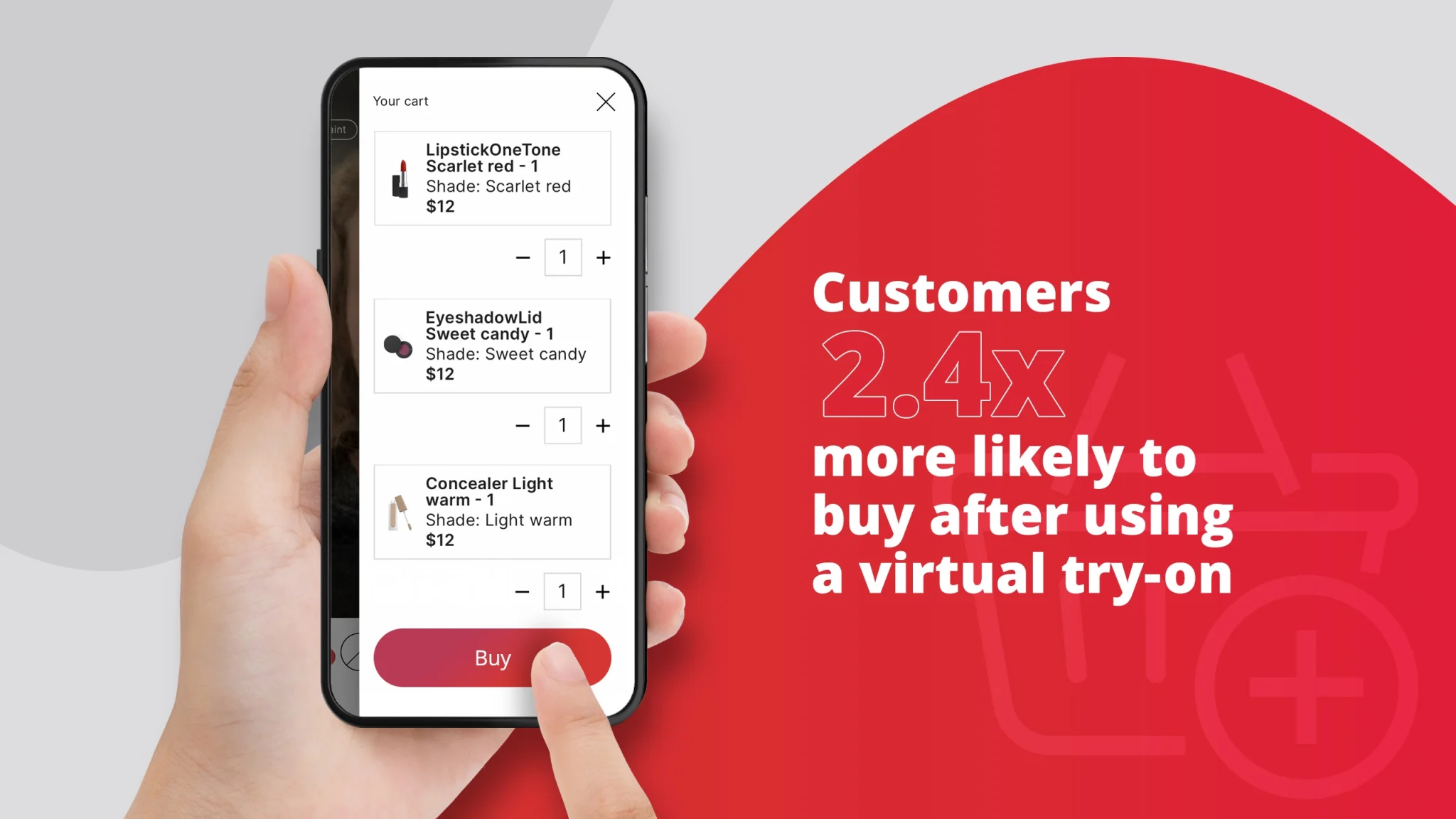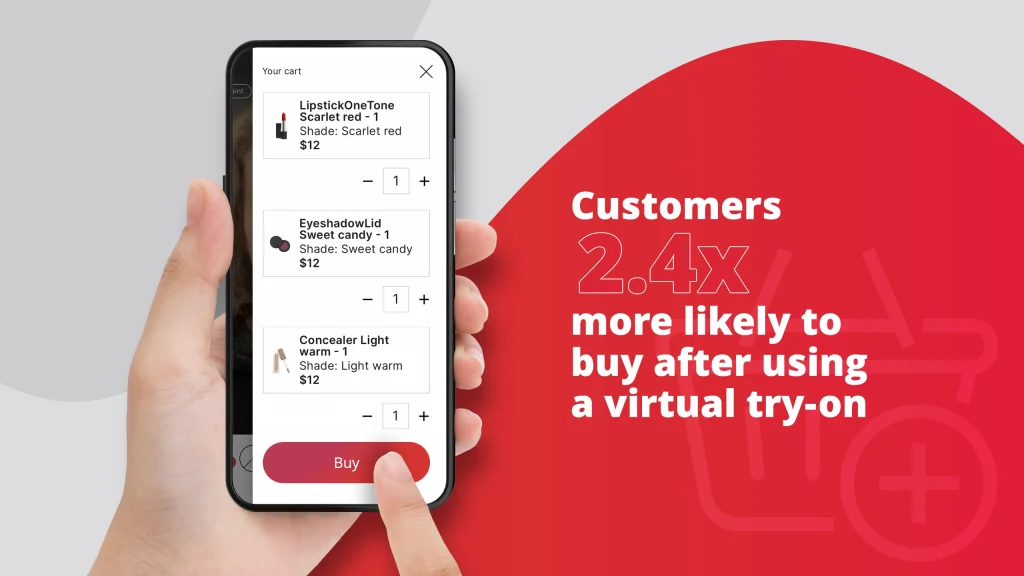 Virtual makeovers are not just a fun and convenient way to try on makeup – they are also a powerful sales tool. According to research, customers that use virtual try-ons are 2.4 times more likely to make a purchase. This highlights the significant impact that virtual makeovers, i.e. try-ons, can have on customer buying behavior.
We can, therefore, safely say that virtual makeover technology is revolutionizing the way brands sell real-world makeup. And in more ways than one. Here are some of the most important ones.
1. Get product recommendations through virtual makeover technology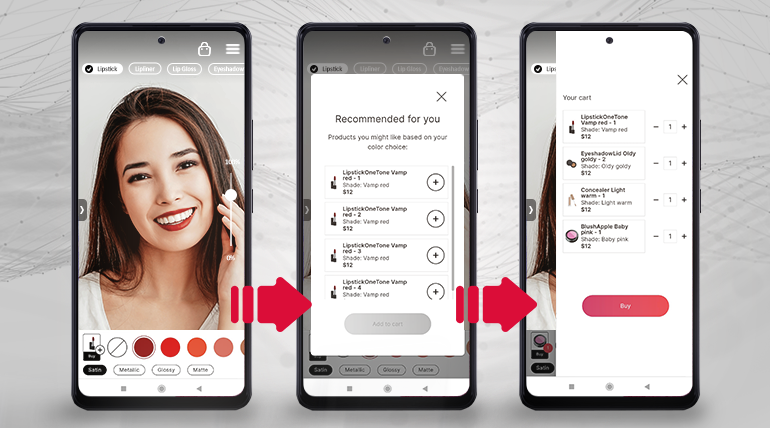 Virtual makeover technology, i.e., virtual try-ons, can be transformed into valuable sales and analytics tools through the use of product recommendations, powered by advanced technology like Visage Technologies' FaceAnalysis.
This technology is capable of detecting a user's age (along with gender and emotions). It can then use this information to recommend popular products within that age group. For example, if the FaceAnalysis technology detects that a user is in their late 20s, it can recommend makeup products that are popular among that demographic, such as red lipstick or a smokey eye look. This could help your customers discover products they may not have known about, and that may be a perfect fit for them.
According to a study by McKinsey & Company, 71% of consumers expect personalized service.
Moreover, 76% of consumers are more likely to purchase when provided with personalized recommendations.
And 78% are more likely to repeat a purchase with a brand that personalizes and recommends.
2. Use virtual makeover software for customer analytics
The above-mentioned personalized product recommendation is a tool that can benefit you in more ways than one. It can also provide insights into customer preferences and behaviors, thus allowing you to tailor your marketing and product development strategies accordingly.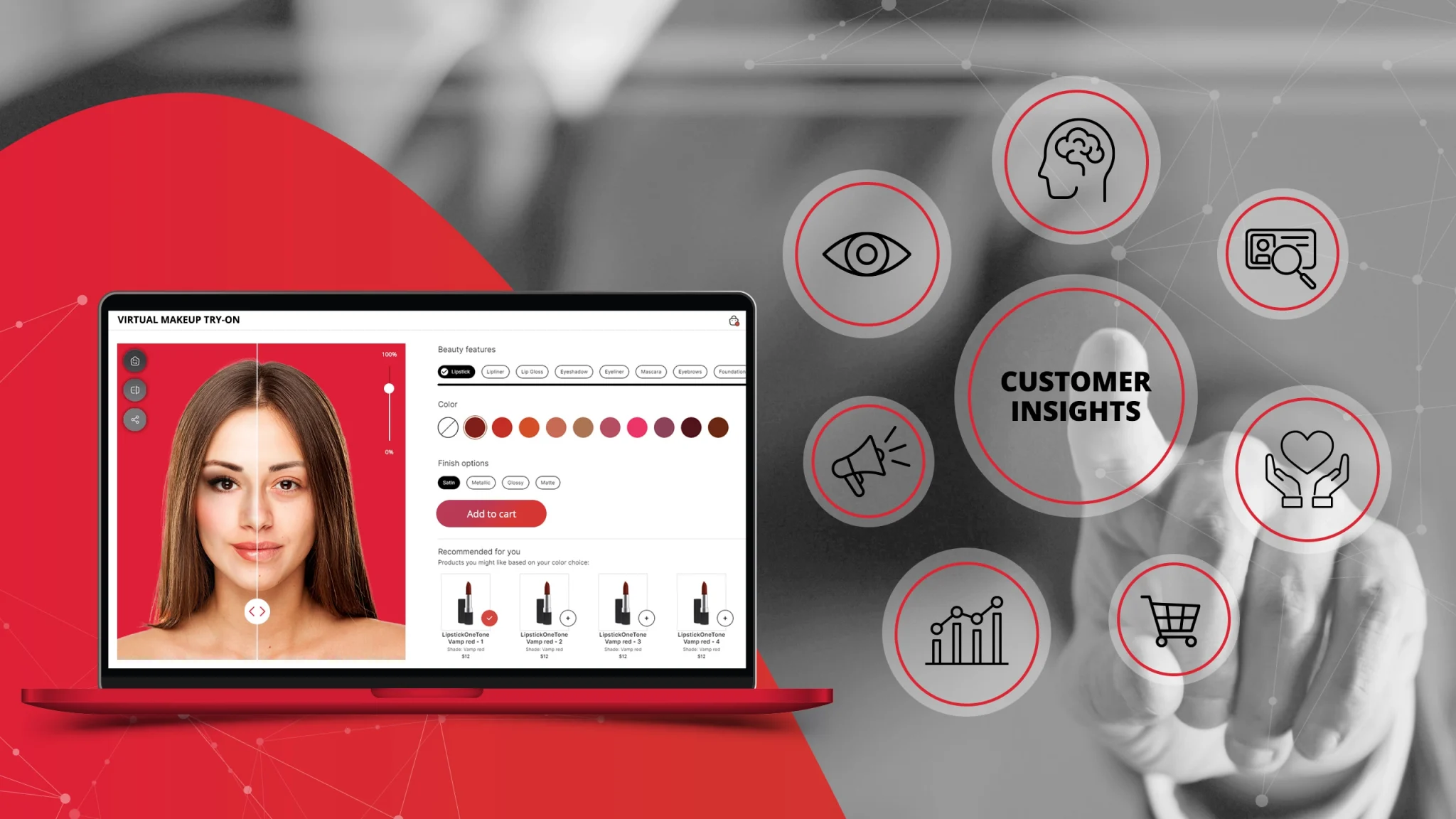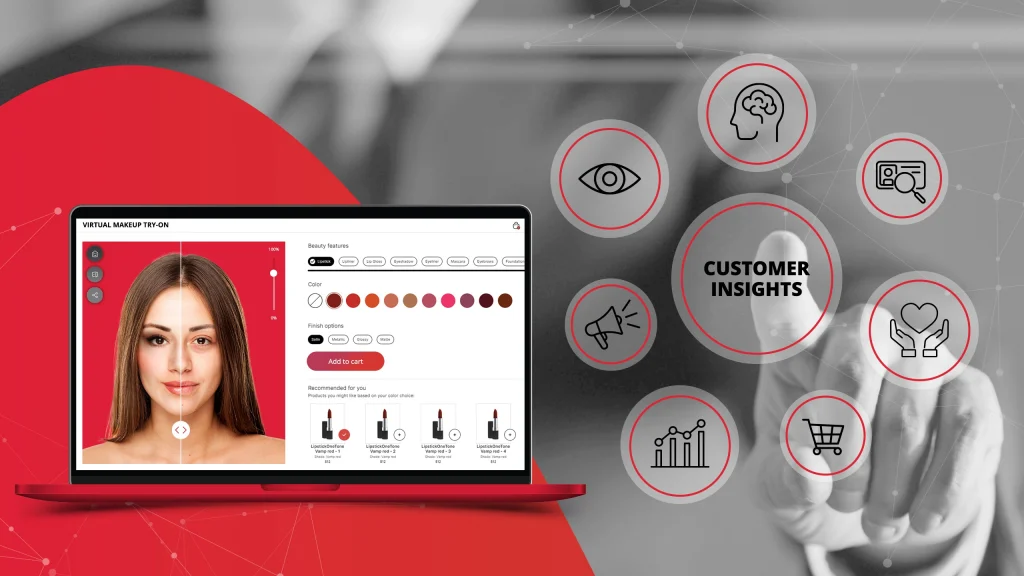 By providing customers with a virtual try-on experience, you can gather data on which products are being tried on the most, which products are popular in which country, age group, or gender, test the new lines, see specific combinations of full looks, and so on. You can conduct more experiments than you would with physical products, with a lot fewer or no obstacles.
This can, in turn, inform your product recommendations and ultimately increase sales.
The use of top-notch face technology, therefore, combined with the power of virtual try-ons, offers your brand a unique opportunity to boost sales and gather valuable insights into your customers.
3. Maximize virtual makeover technology to develop targeted custom features
Based on the previously-mentioned customer analytics and insights into your customers' wants and needs, you can develop targeted custom features for them. In other words, you have the option to cater to their exact needs, giving them what they're looking for and, with it, becoming their number one choice of beauty brands.
For example, you can use virtual makeover technology to create virtual beauty tutorials, such as WOW HOW, an interactive mobile application that teaches users how to apply makeup. And with these tutorials, you can demonstrate how to apply specific makeup and beauty products in a way that complements your customer's unique features and preferences.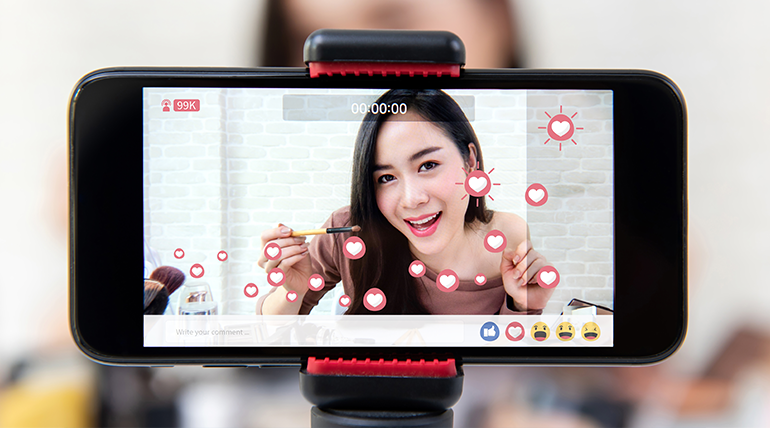 Similarly, you can also offer the option of a beauty consultant, who will advise your customers expertly on which products to choose or how to apply makeup.
In addition, you can quickly create virtual showcases and displays of beauty products that match your customers' needs. For example, you can create personalized color palettes for a customer, according to their specific skin tone, hair color, or based on previously chosen types of products.
All of this, ultimately, helps customers select the best products for their needs or preferences, makes their decision to buy a product much easier, and finally, boosts your sales.
4. Reduce return rates and increase cost-effectiveness
There is another great reason why virtual makeovers are a win-win for both brands and their customers. A study has shown that brands utilizing virtual makeovers – i.e., beauty AR and virtual try-ons – experience 64% fewer returns.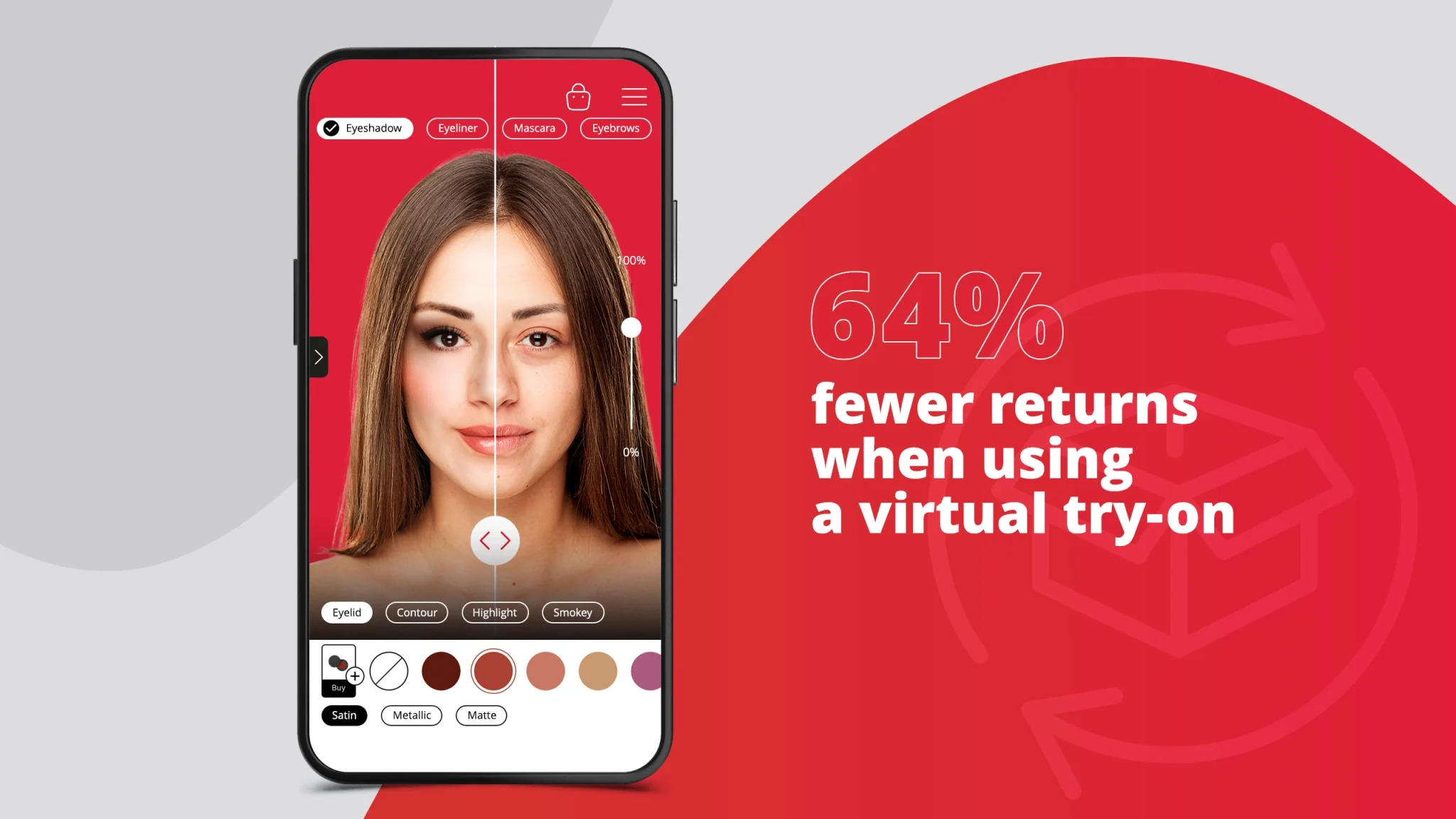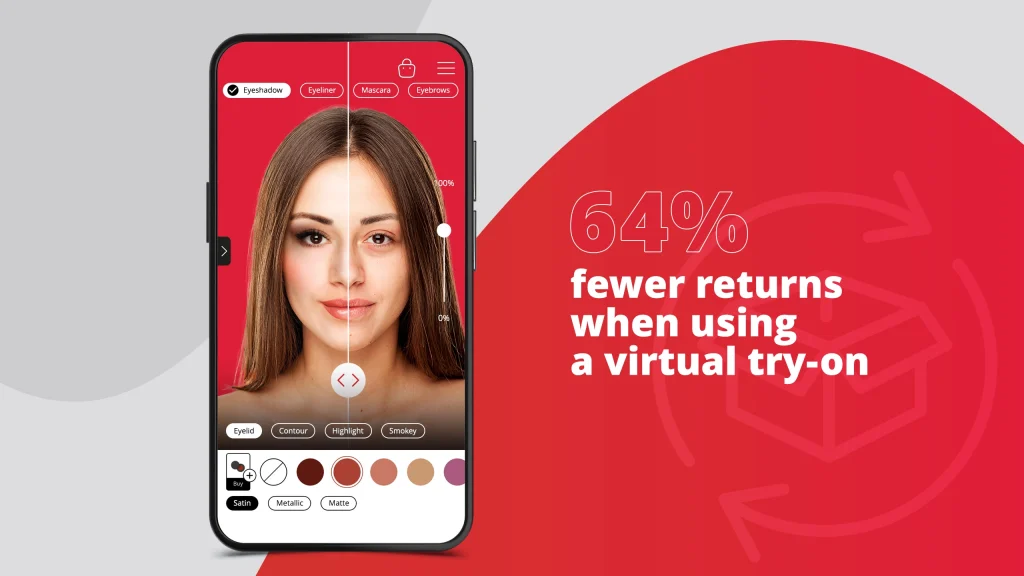 With virtual try-ons, therefore, your customers are able to make informed decisions and get a perfect product match. With the option to try on your products through a highly realistic virtual makeup try-on, they will be much more confident when buying the products. In addition, the risk of their dissatisfaction will drop significantly, as will the risk of them returning the product.
Therefore, for your brand, this means greater cost-effectiveness, as you will save both time and resources on returns. Plus, this will help you build customer loyalty and trust, fostering long-term relationships with customers, which can lead to increased sales over time.
Unleash the power of virtual makeovers and transform your business today
All in all, virtual makeovers are a valuable asset for brands looking to sell makeup products. They provide customers with a realistic preview of the product, let them experiment with new looks, build customer loyalty and trust, and are interactive and fun.
Moreover, they provide valuable data that your brand can use to improve your marketing strategies, cater to your customer's needs, and thus significantly boost your sales.
Have you already tried using virtual makeovers to sell your makeup products? If not, now's the time to start! Don't hesitate to contact us today for more info or try out our live makeup demo.
Get started with makeup|SDK
Contact us today and we'll help you create the optimal virtual makeup experience for your app, website, or smart mirror.