When it comes to innovation, we believe that research is where it all starts. So, it's no wonder that almost 70% of our team members are fully dedicated to research and development. It's also an open position that's most likely to show up on our Careers page.
At Visage Technologies, we have two specialized divisions – Face Technology Division, which develops our visage|SDK and makeup|SDK, and Automotive Division, which collaborates with a major automotive safety supplier, developing algorithms for ADAS (Advanced Driver Assistance System). Although the two divisions work on completely different projects, the main job of all our R&D Engineers boils down to the same thing — creatively solving real-life problems.
To give you a peek into the life of an R&D Engineer, we interviewed one of our experts from the Automotive Division — Vedran Pamuković. You're about to find out what it takes to be a good R&D Engineer in the ever-changing field of computer vision and machine learning.
What does an R&D Engineer do?
As an R&D Engineer, you do everything that's needed to successfully finish the task – from gathering data and collaborating with our annotators to developing training algorithms and analyzing the results. Of course, some of the tasks may not always be the most exciting, but they are usually well-balanced with the development of new interesting features.
One of the most exciting things about this job is the fact that your work actually makes a difference in real life. Our technology is already used in top-class cars, making autonomous driving a bit safer with each new release.
If you're a fan of new cars, you'll love the opportunity to enjoy a ride in the latest models before they hit the market. Before our algorithms make their way into production, they need to be thoroughly tested. The final test takes place on the test tracks in Sweden. There, we can monitor how the algorithms work as the car is driving and make live changes if necessary.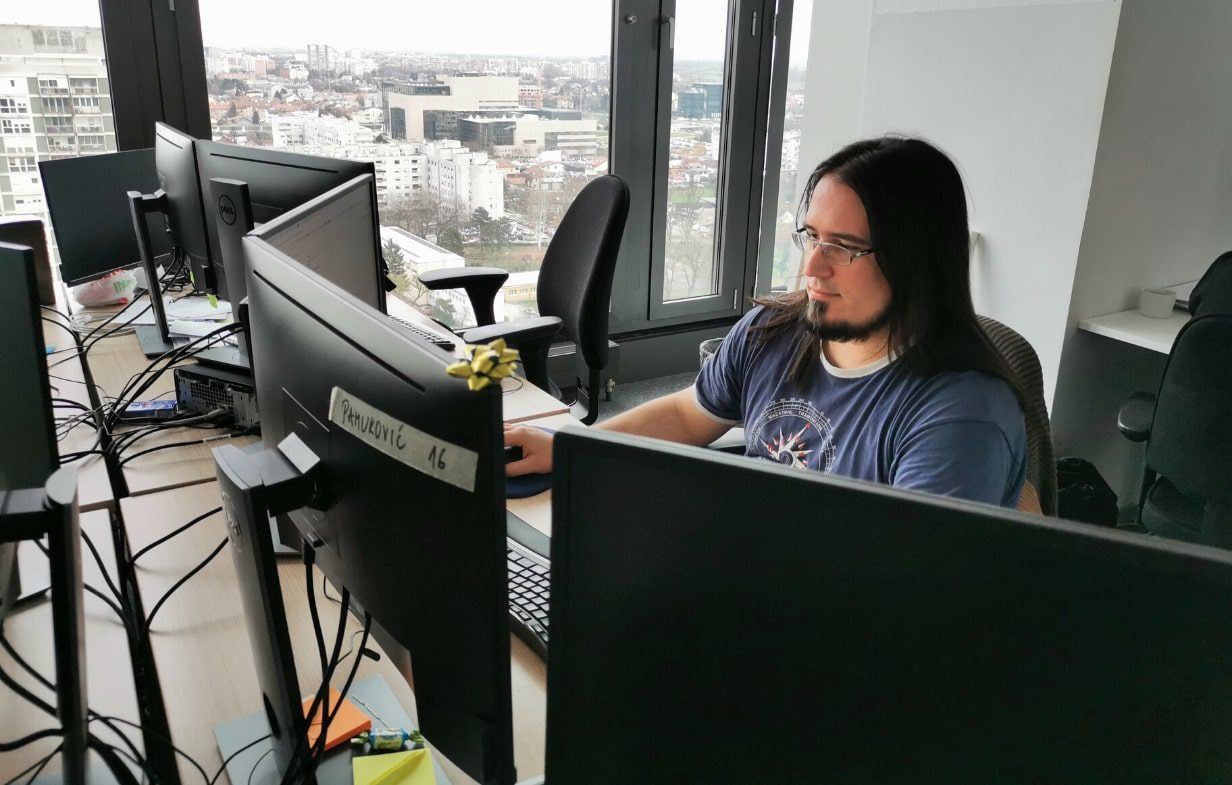 An average day of an R&D Engineer
Each day starts with a brief standup that usually takes around 5 minutes. Although each team member has their own tasks, their work and goals often overlap. This way, everyone gets a chance to share a short update on their progress and keep the team in the loop. Exchanging knowledge and collaborating with each other is very important because it allows the whole team to successfully finish the project.
Since our work is based on Scrum, the project timeline is usually well-planned and transparent. This makes it much easier to organize our time well, set reasonable deadlines and avoid stress.
Around noon, it's time for lunch. There is a restaurant just a few floors below our office, but there are plenty of other good choices around the building, too. Usually, most teams go to lunch together, which is a great opportunity to bond with colleagues. The company pays a lot of attention to team spirit and each new colleague is carefully matched with a team they are most likely to thrive in. Team lunches often lead to some great work-related ideas, too.
After lunch, we're back to work until the end of our shift. There is always free coffee, tea, hot chocolate and fresh fruit available in our kitchen. If we need a short break, we can head over to Fika, our lounge room. There we have a billiards table, table tennis, a pull-up bar, a chessboard, a company library… even an electric piano. This helps us take our mind off work for a while and come back to it refreshed.
Our working hours are flexible so you get to choose when you come to work. Weekends, vacations and any off-time in general are off limits. Nobody expects us to work outside our official working hours.

Becoming an R&D Engineer
"What do I need to know to become an R&D Engineer?" is a question we get a lot. Our answer is usually simple – you need a strong programming background and the capacity to understand complex algorithms.
However, there's more to this position than formal knowledge. Some of what we do has never been done before, which is where creativity and passion come in. An R&D Engineer must be eager to stay at the forefront of computer vision and machine learning technology. Continuous education is a must, and so is keeping an eye out for the latest trends in the field. Besides obtaining knowledge, R&D Engineers must also know how to use it in new, creative ways in order to solve real problems.
R&D is not something you can simply learn in college. It's the combination of good programming skills and the ability to solve problems by thinking creatively. That is why we don't expect all of our job candidates to have a lifetime of experience or a dozen projects to show off. In other words, if you know the basics and you're eager to keep learning, we'll take care of the rest.
Take Vedran, for example. Before joining Visage Technologies as an R&D Engineer almost 3 years ago, he was an IT teacher. He didn't know much about machine learning, but he was ready to learn. Today, he's mentoring others and helping make autonomous driving safer.
Tips for getting started
Visage Technologies is a great career choice for people who want to develop their knowledge in the field of computer vision. By working on a real-life project in a great, productive environment, you can truly become an expert in your field. However, getting started can seem scary, especially when it's your first job, so here are a few tips:
Don't be afraid to ask for help
Nobody expects you to know everything. The atmosphere in the office is great and everyone is super helpful. So, if you have a question, simply ask a colleague. Your team always has your back.
Keep learning and experimenting
It's important to stay in the loop with new trends. The company strongly encourages continuous education through top-notch courses, conferences, summer schools, workshops, company library, and internal knowledge sharing. Grab any chance you can get to learn. This way, you'll not only get better at your job but also find new, interesting ways to solve your everyday challenges.
We're constantly working with new technologies. This means that some of what we do has never been done before. That's why it's important to test a lot, even if you're sure you've done everything right from the first try.
Before you can do any of the above, we need to hear from you! Sending your application is the first step in getting started after all. 🙂
So, if you're eager to learn and tackle new challenges, head over to our Careers section and check out our open positions. We can't wait to meet you!
Join our team!
We're hiring and we want to hear from you! Explore our open positions and get in touch. 🙂